Regular price
$79.00
Sale price
$69.00
Unit price
per
Sale
Sold out
View full details
Detail
1.Is this video doorbell work with any phone?
Yes. The video doorbell uses "CloudEdge" /"Cloudot" App which is compatible with iOS, Android system. You can view video doorbell on mobile phone, tablet.
2.Does the video doorbell support 5G?
If you mean 5Ghz wifi router, No. Only support 2.4Ghz wifi router. If you mean mobile phone network, then yes. After setup video doorbell with 2.4Ghz wifi router, you can use mobile data or any wifi to view video doorbell via app.
Note: If you have a dual band router which has 2.4Ghz wifi and 5Ghz wifi, it must be on the 2.4Ghz setting.
3.Can I view the live feed when I am not at home?
Yes support remote access. As long as you have network( wifi or mobile data ) switched on you can view the live feed from the App wherever you are.
4.How secure is the wireless doorbell camera? I'm worried about it being stolen.
The video doorbell provides Allan security screws, Temper Detection Button on the back of video doorbell, PIR motion detection. Triple protection of the video doorbell unit, don't worry the video doorbell be stolen.
KNOW MORE about KAMEP DOORBELL CAMERA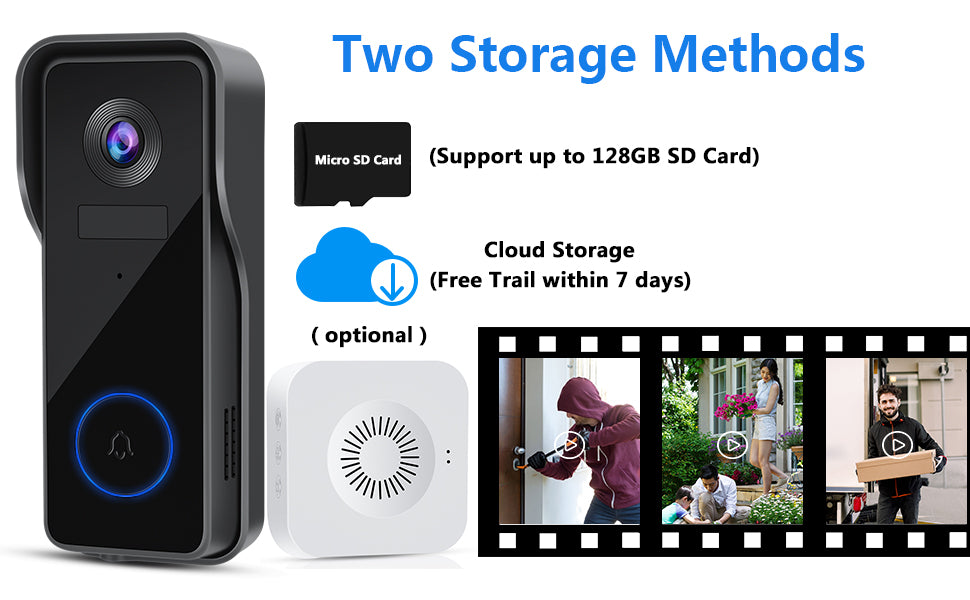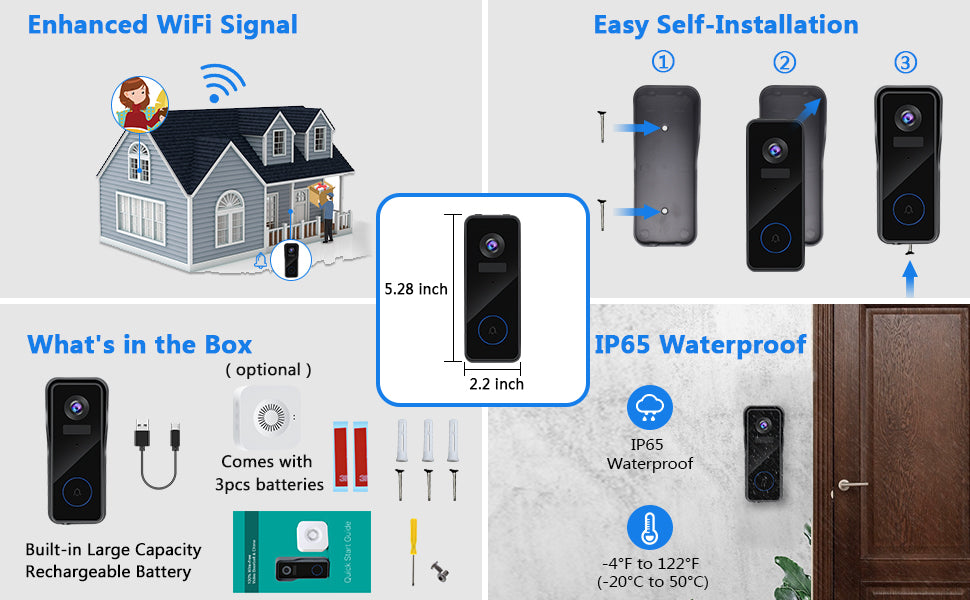 FAQ
1.Can I share my video doorbell with family using the app?
Yes, just open the 'share' function on the app to share the video doorbell with family, so they also can answer the door.
2.How do I know when video doorbell is charged or fully charged?
The USB charging port is under the rubber cover on the left of video doorbell. Video doorbell is available for the DC 5V 1A or 5V 2A charger with USB interface(phone charger is ok). We provided the USB cable.
In charging, the indicator near the usb port is Red; Fully charged, the indicator near the usb port is Blue.
Please fully charge the video doorbell before the first use.
3.How long does the battery last?
After fully charged( 8 to 10 hours to fully charge), video doorbell can last for about 2 to 3 months.
4.Does doorbell camera need professional installation?
You can set up it by yourself in several minutes and no need professional install. Two installation options: the video doorbell provides the double sided adhesive tapes(sticky pads)to attach the video doorbell to the door. Also comes with the mounting screws for screw to the door.